Say Hello! to WANotifier.
WANotifier is an easy to use, all-in-one tool that lets you send WhatsApp messages to your customers using WhatsApp's official Cloud APIs!
WhatsApp officially provides APIs for small and medium business to send and receive messages programmatically using their APIs.
WANotifier lets you do just that from a nice looking UI with no coding knowledge required using your own WhatsApp Cloud API credentials.
Just generate your API credentials on their portal, add them to WANotifier and you're ready to go!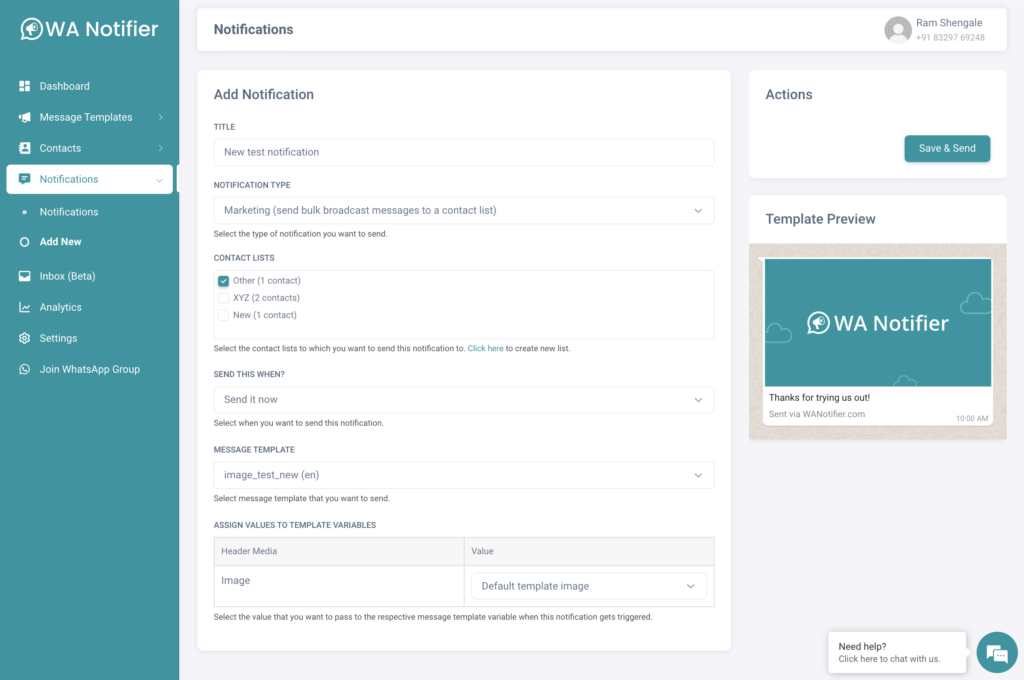 ...there were two ways to send out bulk WhatsApp messages:
Unauthorized Software Tools
You either used hack-y browser extensions or desktop / mobile apps that would ask you to scan WhatsApp QR code & work on top of WhatsApp Web or your WhatsApp phone app to send the messages in a shady and unauthorized way. This was a good way to get your phone number banned by WhatsApp!
Business Service Providers (BSPs)
Or you signed up with one of the WhatsApp partnered BSPs like WATI or Interakt and paid them high monthly fees to use their tool to send messages. Not only you had to pay high monthly fees, you had to pre-pay them for credits and they charged a premium of 10–15% on top of WhatsApp API's conversation-based pricing.
But that changes with WANotifier!
You can now send bulk WhatsApp messages and transactional notifications using the official way without worrying about getting your number banned or paying a fortune for the costly software tools provided by BSPs.
That's because WANotifier is different!
It allows you to do all this at a much lower cost and with 100% control over the setup, usage and billing of the APIs as it works on top of WhatsApp's official Cloud APIs.
Plus you don't need to pre-pay for credits as WhatsApp directly charges your payment method after your usage. Not only that, you don't pay any extra premium charges on top of WhatsApp Cloud API's per-conversation pricing (like in case of BSPs), as you settle all your billing and payments directly with WhatsApp on their portal.
Sounds exciting? Give us a try by today creating your free account!
WhatsApp Cloud API Pricing
WhatsApp Cloud APIs are paid APIs and you need to pay them a small fee for each conversation you do with your contacts. You can learn more about the pricing on their Conversation-Based Pricing page.
Note that the billing for WhatsApp Cloud APIs is managed by WhatsApp on their portal. When you upgrade to one of our paid plans, you pay us for using our software tool and the cost does not include API usage charges as that part is managed directly by WhatsApp.
Try us out for FREE today
Create your free account today and take WANotifier for a test drive.
Using WANotifier to send bulk WhatsApp messages is as easy as following 4 simple steps.
Step 1

Setup WhatsApp Cloud API
Setup WhatsApp Cloud API and generate API credentials on the Meta for Developers portal. Once ready, add these credentials to WANotifier.
Step 2

Create a Message Template
Create a message template from your WANotifier dashboard and send it to WhatsApp for approval. Once approved, you can send this template to your contacts.
Step 3

Add or Import Your Contacts
Manually add your contacts or import them in bulk using CSV file import. Or add them from any of your 3rd party apps using webhooks.
Step 4

Create & Send a Notification
Create a new bulk marketing notification or trigger based transactional notification and setup how to want the notification to be sent.
That's it. You're all set. Your WhatsApp messages are then sent to your customers as per your notification settings!
Everything you need to run successful WhatsApp marketing campaigns and more!
Send Messages Using WhatsApp's Cloud API
No need to use hack-y software tools or 3rd party BSPs that charge you a fortune. Send messages directly using WhatsApp's official Cloud API with full control over the APIs.
Easy Message Templates Management
Create and manage message templates from within the WANotifier dashboard and send them to WhatsApp for their approval.
Media-Based Message Templates
Create media-based message templates and attach an image, a video or a PDF file along with your message text.
Add Variables to Message Templates
Create dynamic message templates with variables (aka merge tags) support. Populate and send message templates with contact specific data.
Simplified Contacts Management
Add all your contacts manually, import them via a CSV file or from 3rd party apps using Webhooks. Manage all your contacts from a simplified Contacts dashboard.
Send Bulk Marketing Messages
Send bulk WhatsApp message notifications to 1000s of phone numbers at once using one of your pre-approved message templates. Send them immediately or schedule them to be sent later.
Send Transactional Notifications
Send action based WhatsApp transactional notifications that are triggered when certain action is performed like a new order on your website or some other event.
Full-fledged WhatsApp inbox for 2-way communication to send and receive WhatsApp messages. Multi-agent support coming soon to allow you to assign agents to individual chats.
Give superpowers to your WhatsApp marketing with Webhooks. Add contacts or trigger notifications from 3rd party apps like Google Forms, Woocommerce, Shopify etc using automation tools like Zapier, IFTTT, Pabbly etc.
Send WhatsApp message notifications from your favourite tools and 3rd party apps with our integrations.








Your favorite app not listed above? No worries! You can still add contacts and trigger notifications using Webhooks with any automation app like...



Honest feedbacks from some of our recent customers.
WANotifier is a perfect tool if you are planning to use it for bulk WhatsApp marketing or sending transactional messages from WordPress. Recommend it for everyone.
I have been using WANotifier for the past 1 month for my eCommerce store. I am able to add/import/manage contacts, create message templates, segment users, connect with third party APIs, reply to messages all within the same dashboard. The UI is simple and friendly. The instructions are clear. Definitely recommended!
We have been using WANotifier for past two months. Nice product! A quick and automated response brings in a feeling of completeness to online purchase experience for our customers. We have processed multiple orders after installing this utility and it just works perfectly every time.